"Train up a child in the way he should go,
and when he is old he will not depart from it."
Proverbs 22:6 NKJV  
class Schedule

: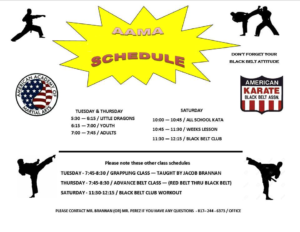 The American Academy of Martial Arts and its outstanding instructors are members of the American Karate Black Belt Association.  American Karate is a system of Tae Kwon Do and has its roots deeply embedded in this very popular Korean Art.    American Karate also incorporates many of the strong self-defense techniques of Jujitsu, Judo, and Aikido.  Our instructors are police officers, military veterans and professionals and more importantly parents. Our wonderful instructors have spent many years in training and real life experience to reach the level of Black Belt Instructor. With professionalism and skill, these men and women act as mentors as well as teachers to both our youth and adult students alike.
THE BLACK  BELT ATTITUDE AWARD:
At each Belt Graduation we award a student that has displayed the Spirit and Dedication
of being a Black Belt. We call this award the Black Belt Attitude Award.
The recipient of this award for the month of NOV 2017 is:
"ANGEL LAGUNAS"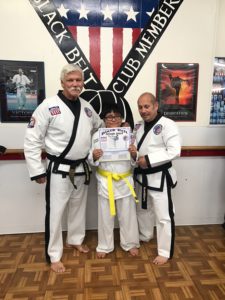 Congratulations on a Job Well Done!
The School Calendar shows information
up to the next Belt Test and other important
events that you should be aware of as a student.
"You need to bring all sparring gear to every class"