Master Ferdinand "Fernando" Perez, 7th Degree Black Belt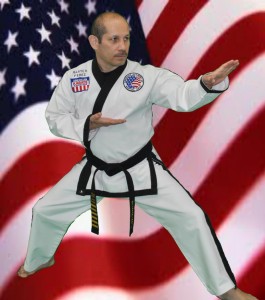 Mr. Perez
Date of Birth & Place: Born September 3, 1960 in New York, New York.
Are you married? For 30 years and we have two children (Monica and Ferdinand, Jr.)
Martial Arts Experience: I've been training in the Martial Arts for over 30 years.  I'm a 7th Degree Black Belt in Tae Kwon Do & American Karate.  I have also studied Shotokan, Hapkido, Tang Soo Do, American Karate, and Boxing.  Basically, I'm a student for life!
Military Experience: I honorably served 24 years in the United States Air Force. I've been awarded the following awards: Meritorious Service Medal, The Commendation Medal, and the Achievement Medal.
Anything Else:  I want to thank my Wife of 30 yrs and children (Monica & Ferdinand Jr.) for the Love and Support throughout my martial arts training.  Without your support accomplishing my   goals would've been impossible, thank you and I Love You guys!